Grow your business: 5 mistakes to avoid as a freight forwarder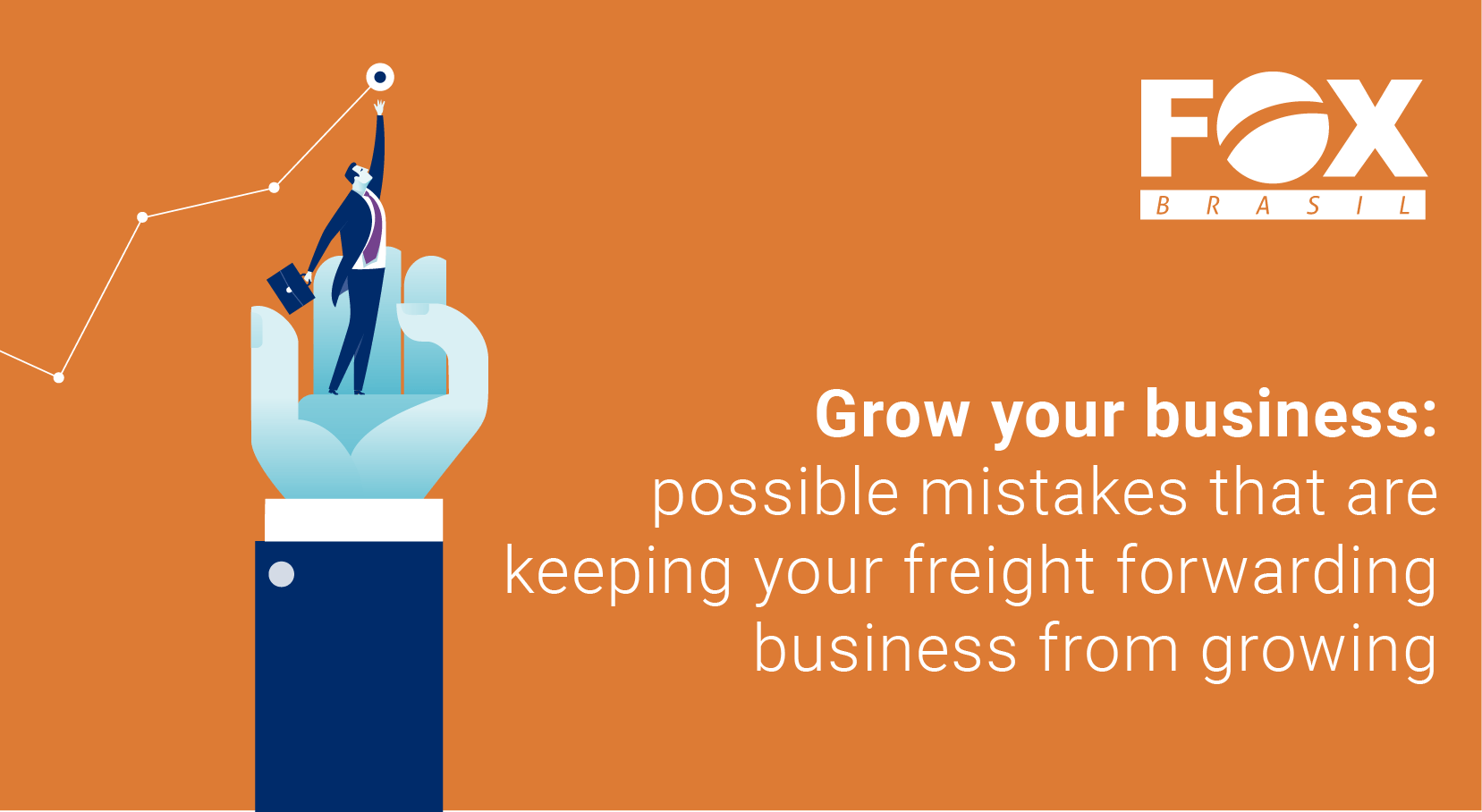 FOX Brasil Tips for Freight Forwarders
What freight forwarder doesn't wish to expand their business and increase profit? These goals are on every agents' bucket list, however, accomplishing them requires much effort. Part of this is avoiding some basic mistakes that could be keeping your business from prospering. This is why, in this post, we will list the main things to avoid in order to grow your business.
The list below might help you to make a diagnosis of your freight forwarding business and identify what aspects of it should still be improved. Doing so will take you one step closer to having a successful performance in the logistics market. Check it out!
Mistakes to avoid in order to grow your business 
1) Choosing inadequate suppliers
Most freight forwarders can't absorb all of their customers' demands internally, and this means having to outsource. If your company outsources services like warehousing, road transportation or customs brokerage, you need to be sure that you are counting on the right partners to do these jobs for you.
Choosing inadequate suppliers can put your company at stake because even when you're not the one to blame for a mistake committed by them, your customers trusted you enough to believe you only had reliable partners. To avoid any issues on this side, analyze how well your current suppliers are handling your operations and consider changing the ones you believe could be doing a better job.
2) Not having good financial control
A freight forwarder has to take care of several international transactions on a daily basis. And being organized about these transactions is a must if you want to grow your business.
This is why it's highly recommended to have a senior staff in charge of your company's finance department. Search for professionals with plenty of experience in this area, who will ensure that your company won't delay the payment of any suppliers and/or international partners. Only by having full control over your business' accountability you'll be able to offer good credit to your customers and avoid facing any major financial issues.
3) Not relying on a team of experts
Being a good freight forwarder and differentiating your business from competition has a lot to do with your team's expertise. There are two things a company considers before hiring a forwarder to represent their logistics needs: pricing and experience.
Besides offering competitive prices, you should establish your brand as an authority when it comes to handling foreign trade operations in your country. And this is only possible by relying on a senior staff that has all the know-how necessary to build the most cost-effective logistics solutions in the market.
4) Not investing in systems to support the operations
There are several systems and software available for freight forwarders to optimize their customers' supply chain, monitor inventories and offer real-time tracking of all shipments. Using technology in your advantage shows that your company cares about being up to date with the logistics trends and puts you ahead of the competition. Besides, it will also enhance your company's performance as a freight forwarder.
5) Not choosing well your international partners
Being a reputable freight forwarder has a lot to do with the companies you rely on to represent your customers' needs overseas. For this reason, choosing your international partners is as important as picking your local suppliers.
A good strategy to avoid counting on the wrong partners is to join logistics networks that will put your company in contact with several reliable freight forwarders across the world. Besides making it easier for you to find good partners, these platforms will also allow you to offer a global reach of services.
We hope this content was useful to you! If you wish to see some other tips that could help to grow your business and get rid of any potential harms, check out this blog with some Risk Management Strategies for Freight Forwarders!
Looking for a reliable partner in Brazil?
Combining innovation, specialized expertise in the Brazilian market & competitive rates, FOX Brasil provides the highest standards of quality to freight forwarders looking for a partner in Brazil.