Shipping environmental issues: How to avoid them?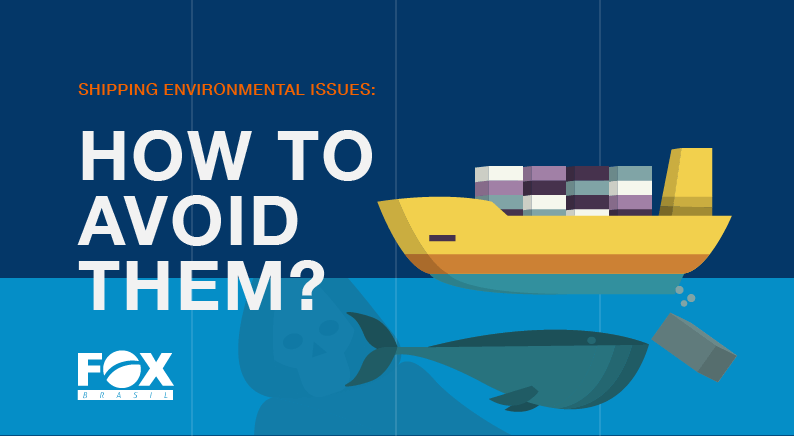 Tips
Just like any other human activity, all means of transportation generate some kind of impact on the environment. As part of the most common shipping environmental issues, it is possible to mention the emission of atmospheric pollutants, burning and forest deforestation, pollution of streams, lakes, rivers, and seas, among others.
Therefore, if you are concerned about sustainability, it is important to build strategies to avoid or minimize these environmental issues when shipping your goods. But how to do so?
In this post, we will list the main environmental issues caused by each shipping method and how to decrease this impact in order to have a more eco-friendly logistics performance. Check it out!
Shipping environmental issues by modal 
Land Freight
The shipping environmental issues caused by road transport are related to the health, safety, and well-being of the human and animal population, including the emission of air pollutants, increase of noise levels, the proliferation of diseases, alteration of surface and groundwater quality, generation of waste, and others.
The emission of air pollutants by vehicles is one of road transport's main issues, especially because there are a lot of very old vehicles still in use, causing an even more significant emission of polluting gases in the atmosphere.
Additionally, the deteriorating material of the vehicles can contaminate the soil and the water sources, contributing to the proliferation of diseases; in addition to the waste of large amounts of tires, which are often not stored correctly, resulting in serious environmental issues.
One of the ways to try to reduce the generation of pollutants is conducting a periodical environmental inspection of the vehicles in charge of moving your goods. Another way of reducing impacts is by taking the vehicles you no longer use to collection and treatment stations where they can be dismantled and their parts can be recycled or disposed of correctly.
Sea Freight
There are several types of waste generated by maritime freight, such as cargo waste, paper and plastic waste, waste generated by the vessel's canteens, sanitary ware and remnants of merchandise, as well as hazardous waste such as lubricants, varnishes, solvents and used batteries.
Such waste generated in ports should be stored in bays within closed containers, following integrated waste management so that these materials can be handled, stored and sent to an appropriate destination. One of the instruments used to make this residue control is a generated waste characterization sheet, from which it is possible to destine them to the specific container standardized by color.
Air Freight
The major shipping environmental issues caused by air freight are related to the handling and improper use of products that are considered hazardous and harmful to the environment and to human health.
Among these activities, and with high-risk potential, are the refuel of airplanes, storage of fuel and dangerous cargo. The fuel, in direct contact with a human being, can cause damage to health. In contact with the environment, it can cause serious contamination. There are several other types of waste generated at airports, such as the huge amount of organic matter and solid waste from the food courts.
To avoid this kind of issues, some airports carry out the separation of solid and recyclable wastes that are collected by specialized cooperatives. The same happens with hazardous waste, which needs to be stored and destined appropriately.
Was this content useful to you?
Keep posted to FOX Brasil's Blog for more exclusive content about the logistics and freight forwarding industries. We are a freight forwarder with plenty of experience in developing integrated logistics solutions and fulfill your international transportation demands from end to end.