IMO 2020: Everything you must know about it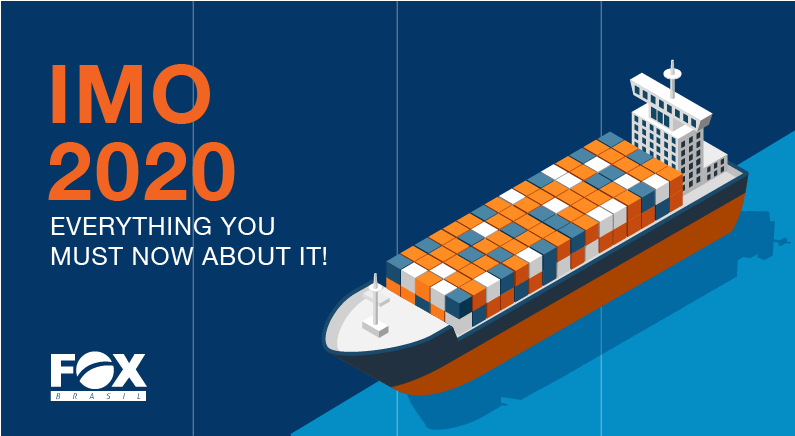 FOX Brasil Freight Forwarder
The IMO 2020 implementation is just around the corner. Starting on January 1st, its rules and regulations will limit the sulfur content of ships' oil and have far-reaching consequences throughout the environment and the global economy. But do you know exactly what it is and what impacts and changes it will bring to you and your business?
In six months, the new regulation will affect consumer products, public health, and even politics. If you want to know more about the IMO 2020 and stay up to date with its impacts on the cargo transport process, then keep reading this post. We will tell you everything you need to know about it.
What is IMO 2020?
The IMO 2020 stands for the International Maritime Organisation regulation that establishes that the marine sector will have to reduce the level of Sulfur Oxide (Sox) emissions by over 80% beginning on January 1st, 2020.
Nowadays, the current maximum fuel oil sulfur limit is 3.5 weight percent (wt%). And, with the new standards, it will fall to 0.5 wt%.
But, what does that mean? The IMO 2020 will set the most substantial reduction in the sulfur content in transportation fuel at one take.
Know what changes with the new regulation
One thing is sure, all modern commercial ships and container ships utilize traditional types of fossil fuel to run their engines. Known in the industry as bunker fuels, they are:
Marine Diesel Oil (MDO)

Marine Gas Oil (MGO)

Intermediate Fuel Oil (IFO)

Heavy Fuel Oil (HFO)

Marine Fuel Oil (MFO)
The biggest problem with the implementation of the IMO 2020, is that all these types of oil contain high levels of Sulphur. Therefore, they emit Sulfur Oxides into the atmosphere.
With the IMO implementation, the goal is to limit SOx emissions from ships not only to improve air quality in port cities and coastal areas but to protect the environment reducing health issues – respiratory symptoms, cardiovascular and lung diseases – diminish the occurrence of acid rain and lightning storms.
Besides that, with the reduced levels of sulfur in fuel oil, IMO will raise the demand for very-low-sulfur fuel oil (VLSFO), which has 0.5% fuel content in its composition.
The impacts of IMO 2020 in global transportation
With the substantial fall of the allowable percentage of sulfur in marine fuel, we can say that oil refiners, shipping companies, and other stakeholders will be directly impacted by it. But how exactly will that happen?
Shippers do not have to make dramatic changes in their processes, but industry sources believe that the price of ship fuel will grow up to 50% in 2020. That can also mean the increase of port-to-port sea freight will up their costs by 10 to 20%.
Therefore, prices increases will be passed onto shippers, and, consequently, to end consumers. For that, we can say that the primary and initial impact of the IMO 2020 will be the increases along the supply chain, which, therefore, will up the landed cost of goods.
So, importers and exporters need to monitor the price increases closely in order not only to understand the actual cost of their products but to know how to price correctly and give their sale pricing. It will be a tough decision: which costs to absorb and how much to pass on to customers and end consumers.
Other impacts that we can highlight are:
Service disruptions
Price volatility
Implementation of additional surcharges
How to comply with IMO 2020 regulation
As we saw, most of the responsibility to comply with the IMO 2020 regulation lies in the hands of the shipping companies. They are the ones that need to ensure that their fleets meet what is established in the new standard. To do that, they have three main options:
Purchase cleaner, low-sulfur fuel

Install Scrubbers – exhaust gas cleaning systems

Start using Liquified Natural Gas (LNG) or biofuels in their ships
Another industry that needs to up its game is the refinery. That is because the availability of fuel oil with a sulfur content that meets the IMO 2020 regulation is not as high as the increasing demand. That means that their prices can get much higher when January 2020 comes.
For all of the other segments involved in the logistics world, the best way to get ahead of the IMO 2020 regulation is to start planning now. Schedule yourself for the price increases that will come with the new standard, plan what numbers you can and what you cannot absorb in your business, talk to your partners and see where you can start saving costs.
There is no way we can determine that the price increases will start on January 1, 2020, due to service loops. It can take months to get to you, but one thing is certain: they will come. So be prepared for the new regulations, so you don't succumb to the new costs of doing business.
Was this content useful to you?
We certainly hope so! Keep posted to FOX Brasil's Blog and stay up to date with our exclusive content about the logistics and freight forwarding industries. We are a Brazilian freight forwarder with years of experience in the development of integrated logistics solutions throughout the world. Our team is fully specialized to handle all kinds of cargo and operations. Do you wish to learn more information?