Logistics technology: new tools and what to keep an eye on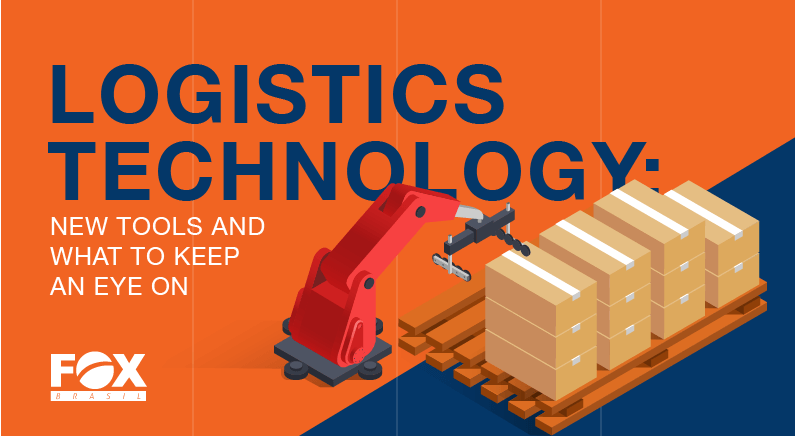 FOX Brasil Freight Forwarder
One thing is sure: we are living in the digital era, and new technologies emerge every day. And that is no different in the freight forwarding market. Logistics technology reveals new tools and tendencies every day. For that, we must keep posted, so we do not miss what is coming and be prepared for the future, right?
According to research done by the International Data Corporation (ICD), Artificial Intelligence investments must reach US$ 35,8 billion this year. Only in Latin America, the Institute says that the digital economy will represent almost 50% of the region's GDP (Gross Domestic Product) in 2020.
What does that mean? That companies all over the world are focusing their investments in new technologies to increase their business' performance and efficiency. And the new logistics technology and tools can be used to improve product movement, inventory management, supplier logistics, among other possibilities.
With all those possibilities, these applications can enable greater process rationalization and better stages management, which influences the company's profitability and customer satisfaction. For that reason, in this post, we are going to update you on all you need to know about it. Interested? Then good reading!
Logistics technology: new tools you should know
Supply Chain Management Software (SCM)
This platform has tools and functionalities that allows logistics companies to reduce error and costs. At the same time, they make it possible to optimize the entire supply chain. It has tools that:
Send alerts about shipment status and updates.

It can help you manage the day-to-day operations within your warehouse.

Forecast your demands.

Manage your transportations.

Process orders – management, fulfillment, billing, and order to cash.

And much more.
It is a software that can automate activities, reduces time, analyzes data, helps you to have a better understanding of your relationship with your suppliers, and keep you up to date about new regulations and legislations. It also has security features to protect your data and your company.
GPS and radiofrequency tools
Through the use of satellite technologies, GPS (Global Positioning System) and even radio frequency, it is possible to track cargo in real-time, from the warehouse to its final stage of the logistics process. It enables the company to monitor its progress until delivery to the final customer.
The interesting thing about radiofrequency is that, although not a new technology, it has benefits. It is because its system works by sending radio signals, which do not suffer interference when the fleet goes through enclosed places such as tunnels and basements. So, unlike satellite tracking, it has fewer fluctuations, allowing the fleet manager to get a better sense of the entire system and the progress of the delivery.
Another feature of tracking is the ability to schedule delivery. It allows for a change of route to occur if you identify a jam or event that could cause delayed transportation.
Drones
You probably already heard about the use of drones in ports, terminals, and maritime facilities, right? Already tested by the multinational Amazon, this technology is being used in the logistics market primarily for surveying and observation. But there are tests of their usage as cargo movers, inventory managers, and administrative helpers.
But as far as delivery is concerned, this technology is still in the testing phase and is a prospect for the future – which may not be as far away as we might think!
Mobile systems
It is hard to find someone that does not use a smartphone nowadays, right? In the logistics market, this tool is already being used and is bringing better results and more efficiency to the daily routines. Mobile systems allow remote access for managers, which enables them to follow the demands and processes of their companies even when they are not there.
This tool permits them to troubleshoot problems, communicate with their teams, and especially chat with drivers through their mobile app.
What about what is trending in logistics technology?
As we said at the beginning of this post, some technologies are emerging, and they promise to add efficiency and optimize the time in some daily tasks and procedures. Let's discover some of them!
Artificial Intelligence, Internet of Things and Machine Learning
When working together, Artificial Intelligence (AI) and the Internet of Things (IoT) can help companies to capture the data generated by the production and movement monitoring sensors and analyze it. This process enables the company not only to manage its inventory but also its deliveries and suppliers with more precision and efficiency. 
When used with Machine Learning – a decision-making system -, the AI can help to streamline the supply chain management, to optimize processes, increasing results, and reducing failures.
Cloud computing and connectivity
This technology enables companies to store data, make up-to-date information available to the whole team, and also collect and translate data gathered by drones and other equipment.
Cloud connectivity allows the use of automated services, creating an environment where industrial machinery and systems are linked – especially when implemented with IoT operating systems.
All of this helps to increase productivity, reduces the possibility of data errors, and streamlines processes.
Analytics e Big Data
We all know that information is essential for managers to make the right decisions and improve business results. So, the use of Big Data tools to gather a company's data, observe its standards and processes, analyze information, and identify new business opportunities can be a great ally.
In addition to the usage of analytics, they can analyze data streams, identify resource utilization, bottlenecks, failures within the chain, and points that can be optimized. This allows the company to reallocate investments and improve the efficiency of its processes, reducing waste.
Data encryption
This technology can ensure greater security in handling and storing sensitive data and information. In the digital age, many companies make decisions based on statistical data, assessments, and concrete sources of information. So all this data is essential for the business to be conducted appropriately and successful in the future.
Through the use of encryption with cloud-based management systems, companies are investing in and worrying about the security of their data and customer information. Therefore, the information that is considered strategic to the business is stored in the cloud or in extremely secure data centers to ensure its security and diminish the risk of data intrusion or theft.
Want to keep up with what is happening in the market?
Subscribe to FOX Brasil's newsletter and stay up to date with all of our news and content directly in your e-mail! And don't forget to keep posted with our blog for more exclusive posts about the logistics and freight forwarding industries. We are a freight forwarder with plenty of experience in developing integrated logistics solutions and fulfill your international transportation demands from end to end.