Fields of work in International Trade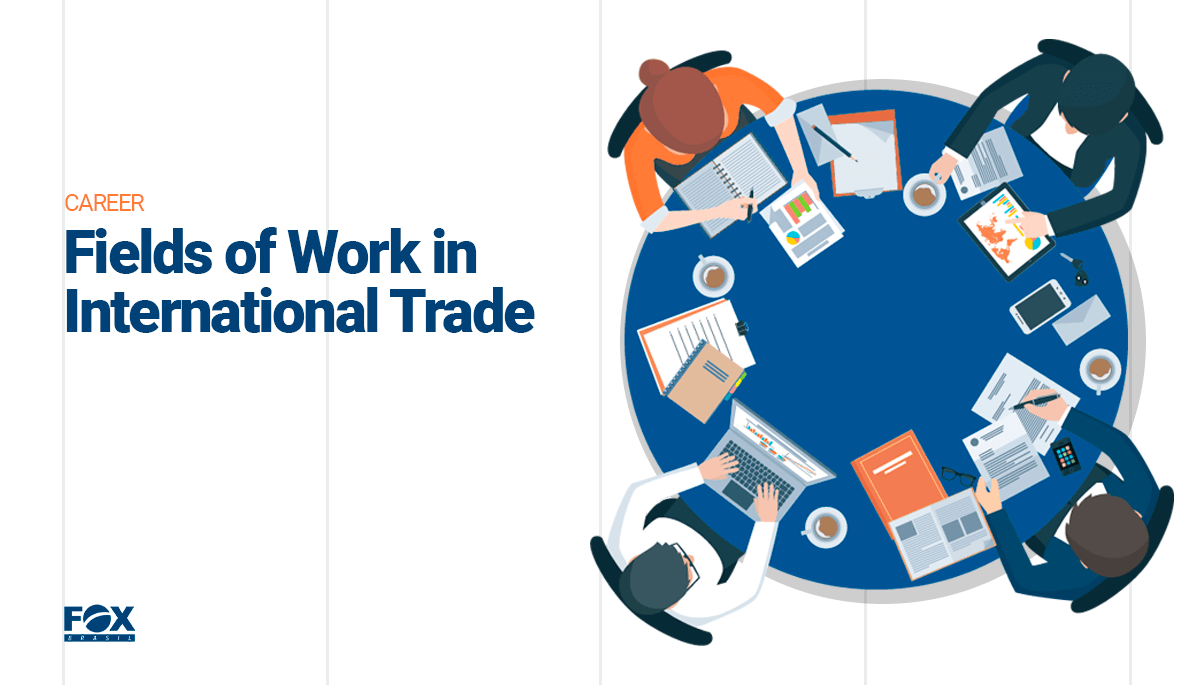 Career
International Trade is essential to the functioning of the world, impacting directly on each country's economy and determining their commercial balance. Its essentiality makes it a line of business with huge potential to be profitable and, in addition to that, it is also not that hard to get started in this field.
If you're looking for a career in International Trade but are unsure of which path is a better fit for your goals and skills, we've put together some of the main areas in the field to help you out.
Freight Forwarding
Freight forwarders are responsible for the organizational part of the trading processes. Their main function is to coordinate and monitor the cargo's movement from the origin to the destination and work as an intermediate between the cargo's owner and the carrier companies.
They must manage documents, risks, prices, and overlook every stage of transportation on behalf of their clients.
There are different ways that freight forwarders actuate, some of them work on their own, others in freight forwarding companies, some specialize in a single mode of transportation, others manage a little bit of everything. In a nutshell, it is a very flexible career path with plenty of options to choose from.
It is not mandatory for a freight forwarder to have a degree, as much as having one is always taken into account. A second language, however, can be considered a requirement and will most likely be requested by freight forwarding companies when hiring new employees.
Customs Broker
Customs Brokers are responsible for the bureaucratic part of the trading processes, working as an intermediate between the owner of the goods and the government. They are specialized in the handling of the legal documents that are necessary to get the clearance of the products, so it's their responsibility to prepare them and make sure they are in accordance to the country's laws.
A Customs Broker also doesn't need to have a degree, but a vast understanding of administrative and legal procedures as well as taxes and duties is required to properly perform their function, since any mistakes on their side of things can most certainly cause the cargo to be stopped from reaching its destination, resulting in a huge loss of money.
These professionals usually work in freight forwarding companies, specialized customs brokers companies, or as autonomous workers.
Freight Quotation
A person who chooses to work specifically with freight costs must be aware of every stage involved importation and exportation, as well as keep track of market prices and do a thorough research among different service providers to give their clients the best possible price to move their cargo.
Many factors can have an influence on the price of a freight quote: the cargo type, the transport type, the taxes involved, the time of the year where the transportation will take place, if the destination is hard to reach and, of course, fuel prices, which are always changing.
A professional who provides freight quotes must always be up-to-date with the International Trade market and have a solid notion of logistics and finances. Usually, freight forwarders themselves offer quotes to their clients, but many freight forwarding companies have personnel that work exclusively to provide quotes, which makes the service more assertive and effective.
International Buyer
Not as tied to logistics as the previous three careers, but still very relevant in the International Trade area, an international buyer is responsible for opening and closing business deals with foreign companies and maintaining a healthy relationship with them.
These deals normally involve bigger quantities of products or higher valued goods and, in addition to making the purchases, international buyers must also keep business records, evaluate carriers' performances, keep track of deliveries and maintain a high-quality customer service.
To follow this career path, you must speak at least a second language and have a good notion of finances, as well as be communicative in order to be able to make successful negotiations and find good deals for your company.