The concept of Cabotage: How is it different from sea freight?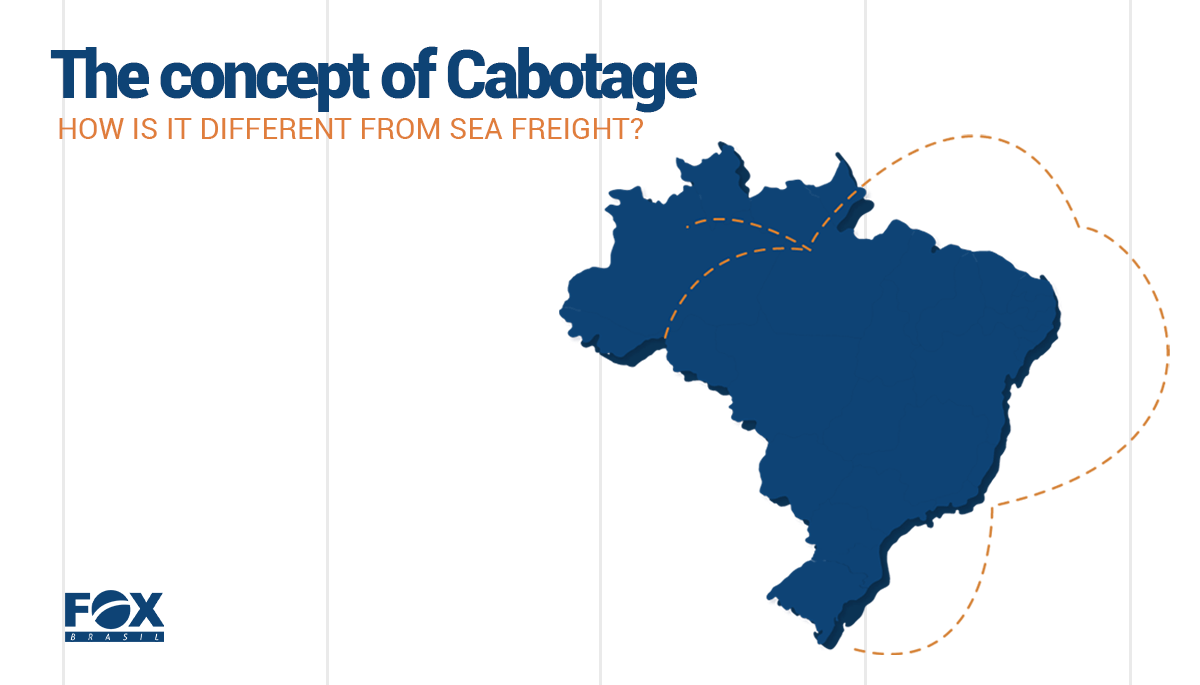 Understand Logistics & Freight
Cabotage is a transport modality that consists of transporting cargo through water. When we put it like that, it may seem like cabotage is the same thing as sea freight, but there are key points about this way of moving cargo that differs it from the regular sea transport and, in many cases, may present a more advantageous alternative for freight shipping.
When it comes to efficient and sustainable transportation, many industries are turning their focus toward cabotage. This lesser-known but highly effective form of maritime transport is becoming increasingly important for countries worldwide. Brazil, with its extensive coastline and vast territory, has embraced the potential of cabotage as a vital component of its transportation infrastructure. In this blog post, we'll explore the concept of cabotage and delve into how it plays a crucial role in Brazil's logistics and economy.
How cabotage works
In this modality, cargo is transported through sea, rivers, or ponds, within a country or continent, through a singular coastal area. This means that, differently from sea freight vessels that collect cargo from a country and transport it across the world, cabotage vessels make shorter and faster journeys.
This mode of transport utilizes ships or vessels, making it a cost-effective and environmentally friendly alternative to traditional road or rail transport. Cabotage can significantly reduce congestion on highways, lower transportation costs, and contribute to the reduction of greenhouse gas emissions.
Advantages of this modality
Cabotage presents a more cost-effective alternative, with freight costs being up to 30% cheaper, which can mean an increase in profit in the long run. In addition to that, it is also safer, with lower indications of accidents, and a more environmentally friendly modality, since it reduces the distance traveled by trucks and with that decreases CO2 emissions.
For Projects Cargo, this option can be even more advantageous, since cabotage is a good way of moving oversized loads, and in some cases may be an easier way to transport things such as pieces of machinery through certain distances without having to worry about road infrastructure or truck capacity.
Cabotage in Brazil
Brazil has particularities when it comes to cabotage since our country disposes of an extensive navigable area, which makes our territory optimal for the use of this modality. Not only that, but the government has also been taking steps toward strengthening this segment and increasing the benefits we can take from it, from which we can highlight the newest program called BR do Mar ("BR of the sea").
BR do Mar
BR do Mar is a government program that consists of a series of incentives for the use of the cabotage mode, making it generally easier and more accessible for shippers to choose cabotage over regular methods. The program focuses on four areas surrounding this segment: fleet, shipbuilding industry, costs, and ports.
The government presented many proposals around making the maritime industry more independent, with more control of their own vessels, as well as investments in the repairs and maintenance segment. In addition to that, they have also broadened horizons for foreign companies with no vessels of their own to rent ships in Brazil, which wasn't previously allowed.
Why choose cabotage?
As we have already disclosed, choosing cabotage can lower the freight costs of your operation. Spending less in one aspect, allows you to invest more in others, as well as increases the profit margin. If you're moving oversized cargo, it may be a good alternative to road freight, which many times require an extensive study of roads.  For operations in Brazil, where the segment is being heavily invested in, it is certainly worth considering choosing cabotage for your next operation.