Quais são as informações necessárias ao obter uma cotação do seu agente de cargas?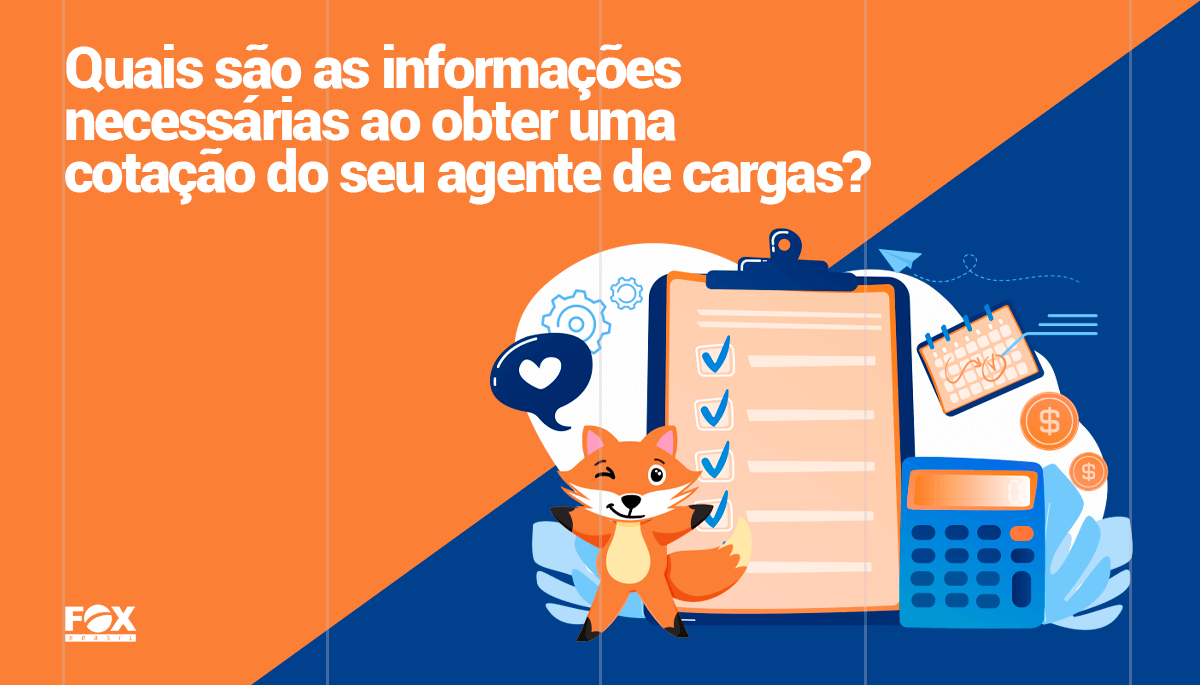 Negócios
Atuando como um intermediário entre os embarcadores e as transportadoras, o agente de carga atua como um especialista em logística, pois organiza todo o processo de transporte da carga desde o ponto de origem até o destino final, fornecendo uma cotação com as despesas de importação ou exportação, aos seus clientes. Mas o que exatamente o agente de cargas precisa saber sobre a carga para fornecer uma cotação assertiva?
Em primeiro lugar, o que a carga é
Cada tipo de carga precisa de informações diferentes para ser transportada, então o que exatamente será transportado é uma boa maneira de começar. O produto precisa ser minuciosamente descrito, por isso o uso de imagens, vídeos e catálogos são bem-vindos. O produto também precisa ter seu nome devidamente traduzido para os idiomas dos países que estarão envolvidos na operação.
O Código NCM/SH
Para evitar mal-entendidos sobre o que é a carga, utilizamos um código numérico para classificar o tipo de produto de forma a romper as barreiras linguísticas. Esse código padronizado de seis dígitos é chamado de Código do Sistema Harmonizado (SH) e é usado em todo o mundo para identificar produtos e aplicar as taxas e impostos corretos sobre eles, mas o Mercado Comum do Sul (MERCOSUL) desenvolveu seu próprio código, com dois dígitos extras, que é chamado de NCM.
Se é um material perigoso
Uma das informações mais importantes sobre a carga é se ela é ou contém algum tipo de material perigoso. A Ficha de Dados de Segurança (FDS) é um documento que fornece informações preciosas sobre materiais perigosos, para garantir que todas as pessoas que irão manuseá-los tenham as informações necessárias para fazê-lo com segurança.
Se é sensível à temperatura
It?s vital that the freight forwarder knows if the cargo needs to be refrigerated or heated. How it needs to be done, however, depends on what exactly the cargo is, since each kind of sensitive cargo have their own peculiarities such as an ideal temperature for transportation that needs to be maintained during the whole trip.
O peso e as dimensões
It?s necessary to consider the entire weight and dimension of the cargo, that means we have to take the packaging into account, as well as the pallets that will be used during the transport, otherwise this could cause problems during pickup and, eventually, delays in the delivery.
Como a carga deve ser manuseada
This kind of specification usually goes on the package, ?fragile, please handle with care? or ?do not stack?, this needs to be made very clearly to avoid mishandling of the cargo which could lead to loss of goods.
Sobre a operação
A operação em si é a especialidade de um agente de carga, isso envolve o planejamento de como as coisas devem ser feitas considerando a origem e o destino, todos os meios de transporte envolvidos, se algum serviço adicional poderá ser necessário e, claro, os Incoterms.
Reconhecidos mundialmente, os Incoterms facilitam o comércio internacional, especificando quais são os direitos e obrigações tanto do comprador quanto do vendedor do produto que está sendo transportado, geralmente determinando onde começa e termina a responsabilidade de cada um durante uma operação comercial.
Além disso, o agente precisa saber se a carga tem urgência, pois movimentar uma carga em períodos mais curtos e entregá-la em dias específicos certamente terá um custo extra.