Demurrage e Detention: O que são?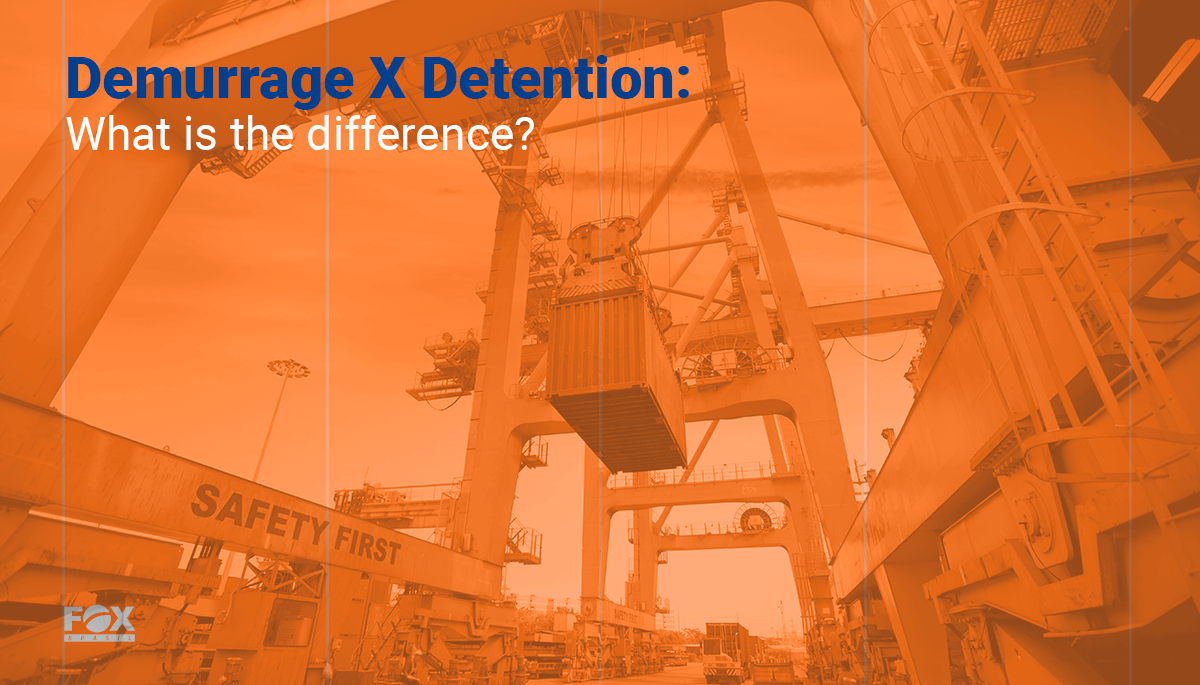 Negócios
Esses dois termos são usados com frequência no mundo do comércio internacional, mas, por mais importantes que sejam, nem todos estão familiarizados com os seus significados. O que eles têm em comum? O que os torna diferentes? Descubra abaixo!
O que é Demurrage?
É uma multa cobrada pelo tempo excedente da permanência de um contêiner carregado no porto. Por exemplo, você, um importador, reserva um contêiner para transportar sua carga e faz um acordo de 7 dias com o proprietário do contêiner. Se esse contêiner chegar ao porto e lá ficar carregado, por 9 dias, há 2 dias de demurrage a serem pagos. Quanto mais tempo o contêiner fica no porto, maiores são os custos.
O valor da demurrage é exclusivo para cada proprietário de contêiner ou empresa de transporte, mas os agentes de carga geralmente são capazes de encontrar melhores ofertas no mercado de contêineres devido a seus contatos e experiências anteriores.
O período de demurrage começa assim que o período de free-time termina.
Espera aí, o que é free-time?
Free-Time refere-se ao tempo em que um contêiner pode ser utilizado pelo importador ou exportador sem cobrança de taxas. Vale ressaltar que contêineres refrigerados geralmente têm menos período de free-time do que os convencionais.
E a Detention?
Assim como existe um prazo estabelecido para a permanência de um contêiner no porto, também existe um limite de tempo para que o contêiner seja coletado no porto, descarregado no destino e devolvido ao porto vazio. Se o processo ultrapassar o prazo pré-estabelecido, é cobrada uma multa, que é chamada de detention.
Demurrage e Detention Combinadas
There are cases where demurrage and detention can be charged together in a single fine. The shipper?s agreement over the use of the container is made in full, which means that, it is stablished a period for the whole operation to be completed, starting to count from the day in which the container arrives loaded at the port, and only stops when the container is returned empty to the same port.
Por que existem multas como essas?
Eles são vitais para desincentivar atrasos em coletas e entregas. Quanto mais tempo um contêiner estiver sendo usado para um único embarque, permanecendo carregado em um porto ou em rota terrestre, eles ficarão indisponíveis para outros embarcadores, o que inevitavelmente causará atrasos e provavelmente afetará a cadeia de abastecimento de uma maneira geral. Não só isso, mas contêineres deixados parados nos portos por muito tempo significam que o espaço de armazenamento está sendo ocupado desnecessariamente, quando poderia estar sendo usado para armazenar outros contêineres.
In a nutshell?
Demurrage é uma multa paga por exceder o tempo de armazenamento de um contêiner no porto. Detention é uma multa paga por ultrapassar o tempo de uso do equipamento, após sua saída do porto para o descarregamento.
A Demurrage e Detention Combinadas é uma multa paga por exceder o tempo de uso do equipamento em geral, o uso começa a contar assim que o contêiner chega ao porto, não apenas quando sai para ser descarregado no destino, como ocorre na Detention.
E, por fim, o free-time se refere ao tempo que um contêiner pode permanecer em uso pelo importador ou exportador, sem a cobrança de taxas.