FOX Brasil Project Logistics at the Break Bulk Americas 2018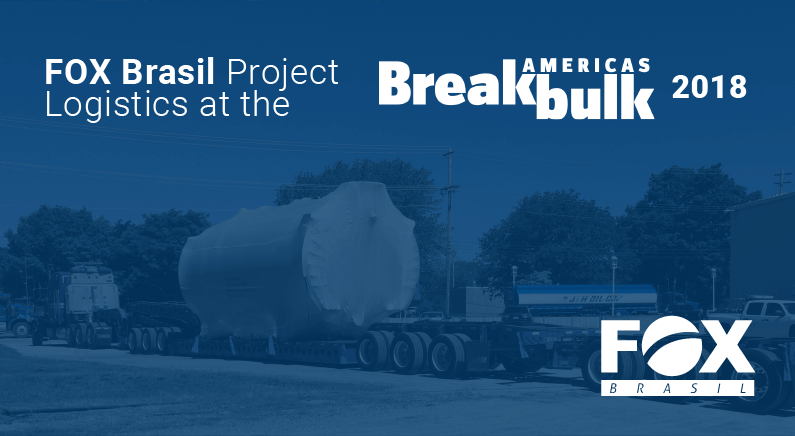 FOX Brasil Freight Forwarder
As part of FOX Brasil Project Logistics department's constant effort to network and be ahead of all the trends available in this industry, we will be participating as expositors at the Break Bulk Americas 2018, the largest exhibition for the project cargo and breakbulk industry in the Americas.
Break Bulk Americas 2018 will be held in Houston, Texas, from October 2nd-4th. The event will be the ideal place to connect with executives from leading EPCs, oil & gas and petrochemicals project owners, top industrial manufacturers, mining companies and metals producers who are moving cargoes throughout the Americas and around the world.
Exhibitors and sponsors include specialized ocean carriers, freight forwarders, ports/terminals, logistics providers, road, rail, barge and air transportation, export packers, equipment companies and more. If you are planning on attending the Break Bulk Americas 2018 make sure to stop by FOX Brasil stand and chat with our team. We are looking forward to all the networking possibilities awaiting for us during the event!
FOX Brasil participation at Break Bulk Europe 2018
Recently, our team has also participated in the Break Bulk Europe 2018, which happened in Bremen, Germany, from the 29th to the 31st of May. For over a decade, Breakbulk Europe has served as the networking hub for industry professionals interested in doing business in Europe.
We were very pleased with the outcome of our attendance at such an important event for the breakbulk and project cargo industries! During the occasion, Guilherme Furquim-Horch, our Project Logistics Manager talked to the event's media to about how FOX Brasil has overcome the challenges generated by the recent economic crises and created new business opportunities in biofuel, thermal power plants, energy and disassemble of project plants with partners in China, North America, Europe & Africa.
See the complete interview on the video below:
Count on FOX Brasil for complete project cargo & breakbulk solutions!
At FOX Brasil, project logistics is our main expertise. Our specialists have years of experience in handling operations of Break Bulk, RoRo, over-dimensioned and sensitive cargoes. As part of our service, we will develop personalized, unabridged project cargo solutions, which include all the stages of the operation, from the design and planning all the way to execution and management of the project.
Regardless of the content, origin or destination of your cargo, we are ready to develop the ideal solution to handle it and make sure it is delivered with safety and agility. Click here for more information about our project logistics service or get an instant quote with FOX Brasil by clicking on the button below: