Despachantes Aduaneiros versus Agentes de Carga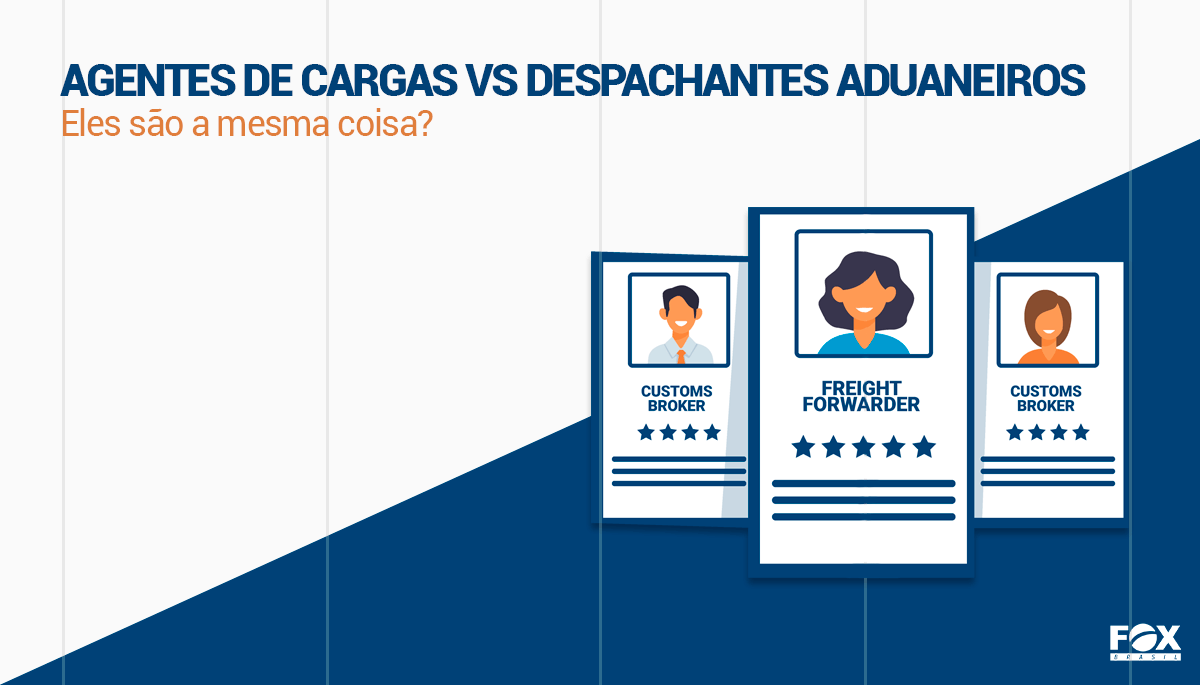 Novidades sobre a FOX Brasil
When we are talking about international shipments, customs brokers and freight forwarders play very important roles that are similar in many ways which may lead to one thinking that they?re just two names for the same thing, but they are, in fact, very different, especially when we are look at their areas of expertise and their overall responsibilities in the execution of a transport operation.
Neste post, analisamos o que exatamente difere um do outro e qual desses profissionais pode ser mais útil para você e sua demanda internacional.
Despachantes Aduaneiros
Customs Brokers are professionals who deal with customs bureaucracy on behalf of the cargo owner in order to get clearance for the goods. They have deep understanding of customs procedures and the necessary documents for the shipment to be in accordance with the country?s laws, and this way guarantee a smoother operation with almost no openings for mistakes that could lead to delays and extra costs.
Além disso, os despachantes aduaneiros são profissionais licenciados, tendo autorização do governo para operar como tal. Eles têm contato direto com muitas agências governamentais, o que facilita ainda mais o processo de liberação quando esse profissional está envolvido.
Agentes de Carga
Os agentes de carga são profissionais que lidam com o lado logístico das operações, desempenhando um papel de gestão no transporte de uma remessa em nome do proprietário. Eles são profissionais experientes e altamente qualificados para contratar transportadoras, organizar reservas, gerenciar armazenamento e tudo o mais que está envolvido em uma operação de transporte pelo melhor preço possível.
Por mais que estejam, em geral, focados no transporte físico de mercadorias, os agentes de carga também administram documentos, e algumas empresas desse ramo oferecem desembaraço aduaneiro como parte de um serviço integrado de logística.
Vale ressaltar que muitos agentes de carga também são despachantes aduaneiros, mas nem todos os despachantes aduaneiros são também agentes de carga.
Como diferenciá-los?
Para simplificar, os agentes de carga são gestores, focados em uma operação de transporte bem-sucedida e econômica. Enquanto isso, os despachantes aduaneiros são profissionais burocráticos que trabalham para obter o desembaraço de um carregamento.
De quem eu preciso na minha operação?
Ambos os profissionais irão beneficiar o transporte da sua remessa.
Não é recomendável que você, como um embarcador, tente gerenciar totalmente o funcionamento de sua operação por conta própria. Quaisquer erros causarão atrasos que podem ser muito caros e, não só isso, mas certamente sua atenção provavelmente poderia ser melhor aproveitada em outros setores. É muito difícil para alguém inexperiente e com poucos contatos organizar reservas com transportadoras confiáveis, bem como reunir todos os documentos necessários devidamente preenchidos para apresentar ao departamento aduaneiro.
A escolha mais inteligente é ir com uma agência de cargas que também oferece desembaraço aduaneiro como parte de seus serviços. Desta forma, você pode entrar em contato com um único profissional que é capaz de lidar com todos os aspectos do transporte de sua carga com a experiência necessária e gama de contatos.